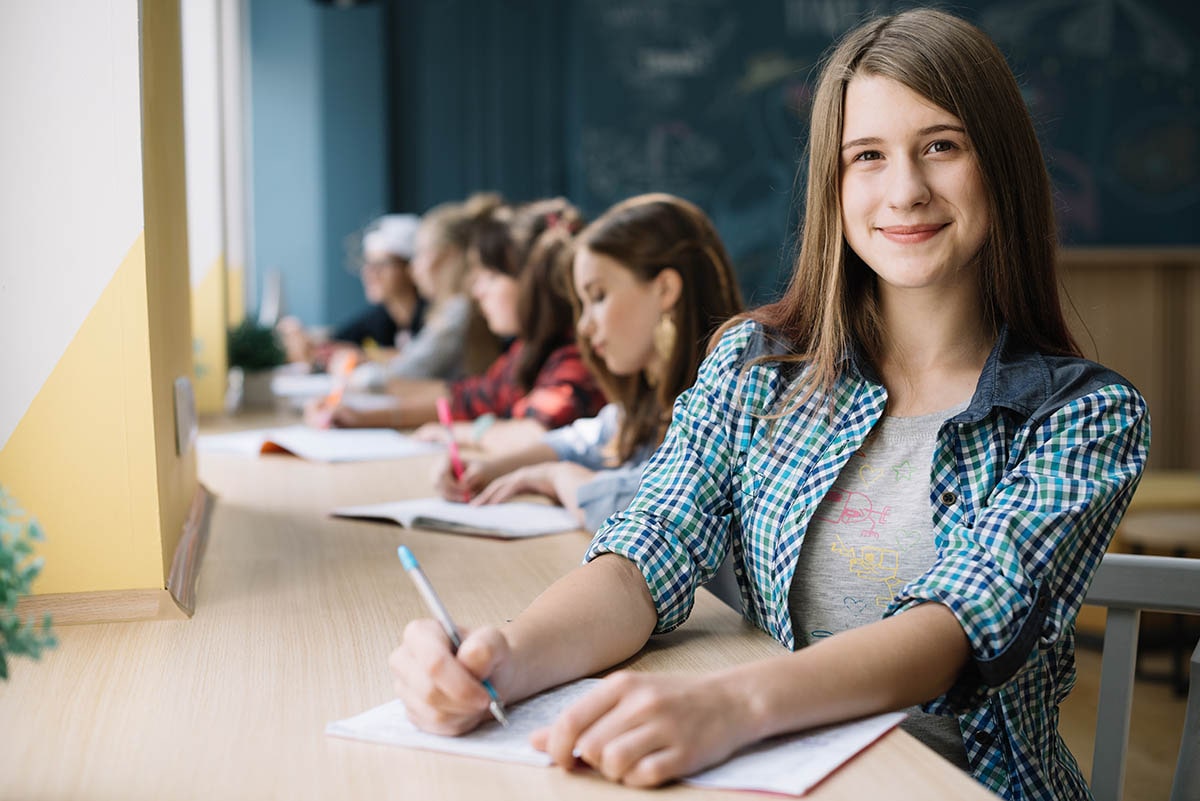 What is IELTS?
IELTS is an English language exam that is required to be taken by international candidates considering studying or working in a country where English is the main language of communication. Most popular countries where IELTS is accepted for university admissions are the UK, Australia, New Zealand, USA, and Canada.
The exam mainly measures the ability of test-takers to communicate in the four basic English language skills: listening, reading, speaking, and writing. The IELTS exam is jointly owned and conducted by IDP Education Australia, British Council, and Cambridge English Language Assessment.
At Daffodils, our online IELTS coaching and IELTS tutor aims at getting every student fully prepared to crack the IELTS exam in the very first attempt. We are India's leading IELTS coaching centre and training institute with 15+ years of experience in teaching students from various backgrounds who primarily aim at Studying or Migrating Abroad.
Why is the IELTS exam Required?
The IELTS exam is required for migration as well as academic purposes abroad in English speaking countries like Australia, UK, New Zealand, USA, and Canada. It is the only English Language Test approved by UK Visas and Immigration (UKVI) for visa applicants applying both outside and inside the UK.
A lot of students get confused about why the IELTS scores are required. The simple answer to this is that foreign universities and visa granting authorities need to be sure that you will not have communication issues while staying in the country. You need to show a good understanding and strong command of the English language and that is why your overall IELTS scores are so important.
As one of the best IELTS coaching centre - Daffodils, we help our students for their dreams to come true as students are our priority in online IELTS classes. We completely realize that each student is different from others and has a different set of requirements.
IELTS Exam Pattern and Syllabus
It is important for candidates looking to score well in their IELTS Test. IELTS Syllabus includes four sections, Reading, Listening, Speaking and Writing. The total test duration is 2 hours and 45 minutes.
IELTS Writing
IELTS Academic Writing: In IELTS Writing test, you will get to summarize, describe or explain a table, graph, chart or diagram in 150 words.
Also, it has a short essay task of at least 250 words.
IELTS General Writing: In IELTS General Writing test, there is a letter writing task of at least 150 words.
Also, here is a short essay task of at least 250 words .
You can take online IELTS classes for the writing test to understand the questions asked and the way to attempt the entire test. There are various IELTS online training writing practice tests in which all the tasks are given where you will get to the different tasks like writing passage, summarizing the contents, answering the questions based on graphs and diagrams
Daffodils is one of the best IELTS coaching in Chandigarh where you will get to know how to prepare for IELTS academic and general with the best IELTS tutor.
IELTS Speaking
In IELTS Academic Speaking: there are tasks consisting of short questions , speaking at length about a familiar topic and a structured discussion.
The IELTS General Speaking: the test is a face to face conversation with a real person making it similar to a real life situation.
There are IELTS coaching for Speaking practice tests to check out the common topics mentioned in the exam. You can also join IELTS training classes where all the required exam material is provided through which you can prepare for the exam as the IELTS speaking test is a face to face round with the interviewer, where there is a lot of discussion and questioning.
Daffodils is one of the best IELTS coaching centre in Chandigarh. If you are looking for IELTS training, it is the right place for getting required training under the guidance of certified and experienced trainers.
IELTS Listening
In IELTS Academic Listening: In IELTS Listening, there are recorded monologues and conversations with related questions.
A range of native speaker accents is used. All standard varieties of English are accepted as responses in all parts of the test.
In IELTS General Listening: For IELTS Listening General also, recorded monologues and conversations are there with related questions.
A range of native speaker accents is used. All standard varieties of English are accepted as responses in all parts of the test.
You can take online IELTS classes for listening tests to know the format of this section. There are some exercises based on the type of questions asked in the test, you can attempt those by joining IELTS coaching at Daffodils.
IELTS Reading
In IELTS Academic Reading: there are few tasks which are based on different formats. Here, you will find three long reading passages with tasks:
Text ranging from the descriptive and factual to the discursive and analytical .
Text might include non-verbal material such as diagrams , graphs or illustrations.
Text is authentic and is sourced from books, journals and newspapers.
In IELTS General Reading: there are three reading passages with task :
Section 1: Two or three factual facts text.
Section 2: Two short , word-related factual facts.
Section 3: One longer text on a topic of general interest.
Text is authentic and is sourced from books and newspapers.
IELTS online training also provides materials and tasks which are given. You can evaluate your reading skills based on the passages provided in the IELTS reading sample test or join the best IELTS online coaching to adapt the reading skills.
Why Choose Daffodils for your IELTS coaching ?
Best Study Abroad Consultants in Chandigarh - Daffodils
Daffodils is a premier IELTS online training firm in Chandigarh that offers a one stop solution and personalized counseling to students who wish to Study Abroad. As the best IELTS institute near me, our expertise is in profiling students and counseling them to identify career oriented & industry integrated courses abroad, ensuring they have a successful career on completion of their courses abroad.
We have 15+ years of experience in IELTS online coaching and guiding students from diverse cultural backgrounds, our IELTS tutor ensures that our online IELTS training provides you with the most personalized, appropriate & accurate advice, with an end-to-end solution for your overseas education needs.
In fact, our IELTS online coaching program is structured products that focus on online self-study. These courses are designed in such a way that they can practise and study at their own convenience. So what are you waiting for? Prepare with our best IELTS online coaching experts and learn the best in IELTS domain.